Assessing readiness for change
When implementing SAP or other ERP solutions, many tend to see the endeavor as an information technology (IT) project. This is a very common mistake. It is in fact a transformation that affects not only technology, but also the people who will use the system as well as the organizational processes involved.
To ensure that transitioning to the new system is as smooth as possible for those who must integrate it, certain project management precautions must be taken. Properly managing the transition to the new SAP software and business processes is a top priority. To do so, it is essential to use a structured approach as well as tools tailored to change management and implementation.
According to a study conducted by Prosci in 2015, readiness for change can be measured in several ways, among which the most popular are:
-written evaluations and surveys;
-meetings and training;
-interviews.
Having a participatory feedback method in place before any major change is valuable. But it is crucial that those involved actually participate! This practice shows that people are much more inclined to share their opinions when a written method is allowed. If anonymity is also an option, the participation rate is even higher. This is why the use of a questionnaire is the most common method.
Based on best practices in project management along with our observations of the key elements of change management for SAP projects, we have developed an effective tool, in the form of a questionnaire, to measure readiness for change. We suggest using this questionnaire to measure and predict whether the changes anticipated by a SAP implementation will be supported by the team, or whether there will be a tendency to resist. Through a keen awareness of the initial state of affairs, efforts can be made during the project's infancy to support the areas that need it most in order to adopt the necessary changes at an individual or organizational level.
The Change Readiness Assessment questionnaire features 29 questions and focuses on several important levers for change:
Business directions
-External environment;
-Leadership;
-Strategic direction.
Operations
-Organizational structure, tasks, and work process;
-Management and communication process.
Support systems
-Organizational culture, norms, and ethics;
-Human resources system;
-Personal goals and competencies of employees;
-Information processes.
This questionnaire is ideally utilized during the planning stages, essentially at the project's very beginning. It can also be repeated throughout the SAP implementation project in order to monitor how perceptions of change evolve and to quickly make adjustments. It is designed to give project managers a quick visual overview of the organization and how the levers are currently aligned. It profiles the organization's readiness for change at a given point in time, highlighting the perceptions of those who responded to the questions.
There are many benefits to using a questionnaire over other evaluation methods. Firstly, it is a process that is easily duplicated and reusable, allowing for comparisons to be made over time. The questionnaire in Excel format is also inexpensive in terms of time (approximately 15 minutes) and allows for the inclusion of a fairly large number of participants, who can fill it in individually.
Managers, supervisors, change agents, and certain champions should each complete and score the questionnaire. Sharing their profiles as a group will be very revealing, helping to anticipate the rest of the change implementation process.
Here is an example of the results:
The responses to the questionnaire will yield two other important results:
-By comparing their profiles, team members can share their assumptions and reach a common agreement on how to prepare the organization and its people for change.
-They can also identify where to focus their initial efforts and anticipate pitfalls that may emerge later along the implementation road.
It is suggested that you carry out the questionnaire and analyze the responses early in the SAP project implementation process. The project is more likely to succeed if you are able to anticipate the extra effort needed to efficiently employ the change along with the levers needed to achieve this.
So, do you have a sense of your readiness for change? Would you like to measure it? We would be happy to work with you and help you determine where you stand.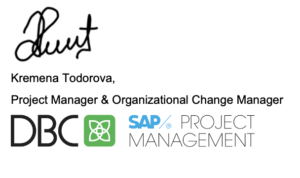 test